Jim McCarthy provided the following photos and the caption information. Let the Webmaster know if you can identify other classmates in these photos.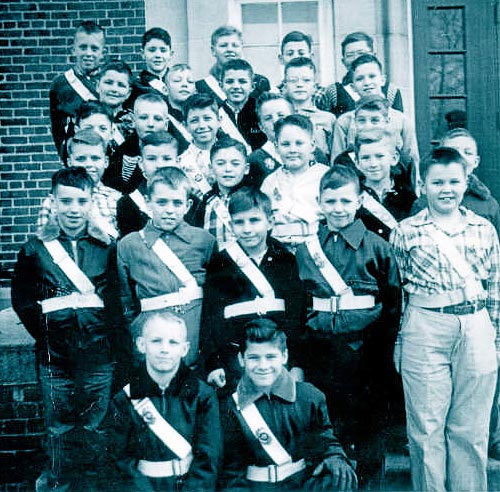 The safety picture is from Dundalk Elementry in 1955. Barry Owings and Howard Scelsi are in front. I believe Barry's brother took the picture with and early Polaroid.
Tentative identification of classmates, from top to bottom--
Dick Edell, Wade Nicholson, Ted Robinson, Jim McCarthy, David Bergeron
Frank Insinga, ? Edward Gale, George Dawson, John Malogrin
? Leo Courtney, ? ? ?
Jean Peter, ? Don Kagle, Robert Chew, Ed Higgs, ?
? Charles Harris, ? Roy Zang, ?
Barry Owings, Howard Scelsi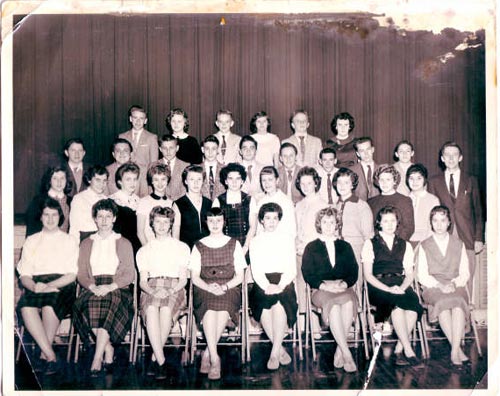 Mr. Bells class is the 9th grade homeroom from 1959 and was taken at the old Sparrows Point High, better known as North Point Annex.
Tentative identification of classmates from front to back--
1st row: Rebecca Otto, Barbara Romansky, Joyce Hardy, Jackie Mussard, Lynne DiMattei, Jackie Rainey, Linda Shakespeare, Sarah Phelps
2nd row: Carolyn Logue, Susan Cash, Karen Campbell, Joyce Fike, Carol Stine, Rita Balochie, Carolyn (Last Name?), Debbie Manning, Vicky Rodman, ?, Maria Persiana
3rd row: Terry Evans, Steve Kurant, Joe Knuth, Jim McCarthy, Joe Fortino, Will Lewis, George Hurley, Don Waters, John Forney, Mr. Bell
4th row: Lanny Holcombe, Sandra Largent, John Steinhoff, ? Bobby Eichorn, Viola Young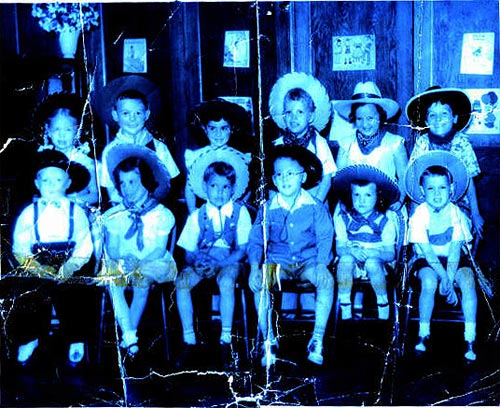 Mrs. Gordon's kindergarden class was held in her home. The picture was taken in the basement of the Lutheran church at the corner of Liberty Parkway and Dundalk Avenue. It was our graduation ceremony in 1950.
Jim's comments about this photo: "I can identify myself 2nd from left in the back row and Jackie Davis 2nd from the right in the back row. I believe that Reuben Fullwood is the last on the right in the back row, but I'm not sure. Also I believe that 3rd from the right in the front row is John Mussina. John's mother was a substitute in the Dundalk area and I think he was in the class of 63. Others in the picture might be Rick Ragan and Leo Courtney but I cannot identify them."