2018 Scholarship Update

Special Donation:
For 2018 and again in 2019 Tom Newkirk, Chuck Hartlove, and George Dawson jointly gave a $1,500 scholarship to a graduating auto mechanics student from the Dundalk/Sollers Point vocational high school to help in furthering that student's auto mechanics education. These scholarships have been presented in memory of and in honor of Ted Robinson, our very good friend from DHS62 and a master auto mechanic as acknowledged by his peers.

Address for Donations:
Make your checks to the "Class of 62 Scholarship Fund" and send to:

Ginny Gray (Treasurer)
Class of 62 Scholarship Fund
19530 Cliffsage Court
Cypress TX 77433-7500
Scholarship Committee:
if you would like to serve on our scholarship committee email John Schroeder.

Class of 1962 50th Reunion

50th Reunion Photos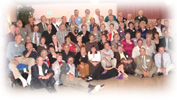 The Dundalk High School Class of 1962 50th Class Reunion was held on Saturday September 29, 2012 at Columbus Gardens in Nottingham, Maryland. Refreshments included a buffet dinner, beverages, and a cash bar. Photos from the reunion are on the photos page. On the night before the Reunion, a class party was held at Squires Restaurant on Holabird Avenue in Dundalk and included pizza, salad and beverages, plus a cash bar. We all send our thanks to Frank Insinga and his committee for making these events so successful, and we look forward to future reunions and class events.
Class of 1962 Scholarship
Read About Our Scholarship

Recent Scholarship Winners
Winners for 2018



The winner of the Class of '62 scholarship is Anastasia Farley. Anastasia, who won other awards at the ceremony, was also Valedictorian of the DHS Class of 2018. Ms. Farley plans to attend Susquehanna College in Pennsylvania in the fall. Katie Paterka Roppelt, who won the first Class of 1962 scholarship 17 years ago, presented the award.


The recipient of the Class of 1962 Barbara Wernecke Durkin Scholarship award of $2000 for 2018 is Kayla Newberger. This is the fifth and final year of the "Barb" award, which was entirely funded by Barbara's husband Bill Durkin. Alice Jones Redmond presented the award.
Winners for 2015-2017



The recipient of the Class of 1962 scholarship for 2017 was Amanda Dove. Amanda planned to study mathematics at UMBC. She made straight A's in high school. In her spare time she enjoys bowling and dancing. Her parents are DHS grads and so is her grandmother (class of 65). Summer Nevins, our 2015 winner presented the award.
The recipient of the Class of 1962 Barbara Wernecke Durkin Scholarship for 2017, funded by Bill Durkin, was Shamar Stinnett. Shamar is majoring in Theater and Media performance with a minor in secondary education Stevenson University. Our classmate Alice Jones Redmond presented the award.
The recipient of the Class of 1962 scholarship for 2016 was Katelyn Ludwig. She planned to attend Notre Dame of Maryland University in the fall with a major in nursing and a minor in psychology. She graduated from high school with a 3.4 GPA and a 4.67 QPA. Through a partnership with Dundalk High, Katelyn also attended the Academy of Health Professions at Sollers Point Technical High School where she received a certification as a Nurse's Assistant and for CPR. Katelyn was also a tri-athlete in high school and plans to play softball and participate in a volunteer service sorority at Notre Dame.
The recipient of the Dundalk High School Class of 1962 Barbara Wernecke Durkin Scholarship for 2016 was Alexis Moiseyenkov. Alexis was on the Honor Roll throughout high school, and was enrolled in the Advance Path Academy throughout high school in order to graduate a year early. In her junior year she won an award in The Optimist Club essay contest and she participated in the Model UN during her junior and senior years. Alexis was also active in the Dundalk High athletic program including tennis and badminton. Her community activities included participation in the Fourth of July parade with the Dundalk baseball team and fundraising with the U.S. Army. Alexis planned to enroll in the Journalism program at Kingston University.
The recipient of the 2015 Dundalk High Class of 1962 scholarship was Summer Nevins. Summer won the social studies academic award, the Athletic Booster Club Scholar Award and the Girl of the Year award from the Optimist Club. The DHS Faculty Committee that selected Summer told us that she took the maximum number of Advanced Placement courses and always shows outstanding dedication. Summer plans to attend the University of Maryland in College Park where she will pursue a major in a medical field.
The winner of the 2015 Barbara Wernecke Durkin Award was Steven Shaw. Steven was in the top 5% of his high school class and will attend Barbara's alma mater at Towson University where he will study to be a high school teacher. This was the second year for this scholarship, which was made possible by the generosity our classmate Barbara Wernecke. Click here to read more about Barbara.
Click HERE for information about all of our scholarship winners.
Board of Directors
Current officers include Dick Marcheski (President), John Schroeder (Secretary), Ginny Gray (Treasurer), and at large members Carol Haag, Tammy Sturges, Ken Merrill, Roy Sparks, and Richard DuChateau (Webmaster).
Address for Scholarship Donations
Make your check to the Class of 62 Scholarship Fund and mail to:
Ginny Gray (Treasurer)
Class of 62 Scholarship Fund
19530 Cliffsage Court
Cypress TX 77433-7500
The Class of 62 Scholarship Fund is recognized as a 501(c)(3) organization under the Internal Revenue Code as a charitable organization. All donations are tax deductible to the full extent allowed by law.
Other News and Events
Inside DHS-- March 2012
Thanks and Kudos to MiKell Lyons for sending us photos of the interior of Dundalk High School that she took during her farewell trip to the old high school building.
2010-2014 Events
Website Content

Class Directory: Lists every member of the DHS Class of 1962. Check your mailing address, email address, and phone number on our Directory page. Also provide the phone number, e-mail address or snail mail address of any classmates who are not listed. PLEASE send any updates to Frank Insinga. If you can't download this file, get the free Adobe Acrobat software.
Photos and Other Nostalgia: This part of the website is divided into two related sections. You can view photos of class reunions and parties or experience some nostalgia, including images and stories from our high school days. Send us your class stories and photos.
Scholarship: The Class of 1962 supports the Dundalk community by providing college scholarship assistance to outstanding graduating DHS students with financial need. Meet former recipients, find out how to contribute, and find out how to apply for a scholarship.
Memoriam: This page is a tribute to departed classmates. We welcome your comments about their loss and what they meant to us.
Links: Visit our favorite websites including the websites of other classes, our favorite charities and other sites of interest.
Contact the Webmaster to correct errors, provide new information, or make recommendations